Nova Events
Throughout the year Nova is involved is a range of events that are close to our heart, support women and children or the community we all live in.
In recent times we have been at the Newcastle Pride Festival, the Mental Health Wellness Walk, and the Reclaim the Night Events at both Newcastle and Lake Macquarie.
If you see us out and about, please feel free to come say hello, we're always up for a friendly chat, or to offer assistance if we can help you!
We also add most of our events to our Facebook page, so feel free to join us there to keep up to date on what we're doing.
---
ANNUAL GENERAL MEETING 2023
PUBLIC NOTICE
Nova for Women & Children will be holding their 2023 Annual General Meeting at 5.45pm on Tuesday 17 Oct 2023 at Valentine Bowling Club, 17A Valentine Cres, Valentine NSW 2280.
Please email: belindab@novawomen.org.au for the meeting details and to RSVP if you would like to attend.


---
SUPERCARS 2023
We were 'super' grateful to the Lord Mayor and the City of Newcastle for choosing Nova as one of the charity recipients for the Lord Mayors VIP Charity Fundraiser, at Fort Scratchley during Supercars again this year.

Thanks to a number of very generous donors, we had some fantastic prizes and raised great money, where, 100% of it will go towards special projects for the Children and Youth of the women we are supporting.
We would like to thank and acknowledge the very generous donors below, who made this possible.
Matt Hall Racing, Westpac Rescue Helicopter Newcastle, Sydney Motor Sport Park, Fastrack Experiences and the Newcastle Knights.
Novotel Newcastle Beach, Saddlers Creek Wines, Body Fit Newcastle, Shot by Brad & Co, Hairology Broadmeadow, Enhanced Nail and Beauty and Norris Hair and Beauty Supplies.
Reading Cinemas Charlestown, Action Boxing and Fitness, and Ninja Parc Newcastle.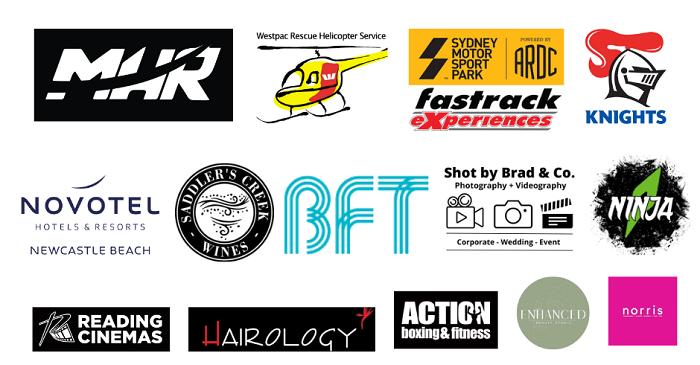 ---
ANNUAL GENERAL MEETING
The Nova for Women and Children AGM was held on Monday, 17 October 2022, at our Office at: 558 Hunter Street Newcastle West NSW, commencing at 5.45pm.

Our Voluntary Board of Women were re-elected and you can read about our achievements over the past year in our Annual Report here:
---
Below are some of the previous events we have held or been involved in:
| | | | |
| --- | --- | --- | --- |
| IWD 2020 Breakfast | Lake Mac Rally | Homelessness Meeting | Reclaim the Night |
| Anti-Poverty Week Sit In | Action Boxing Fundraiser | | |
Below are some of the previous events we have held or been involved in:
---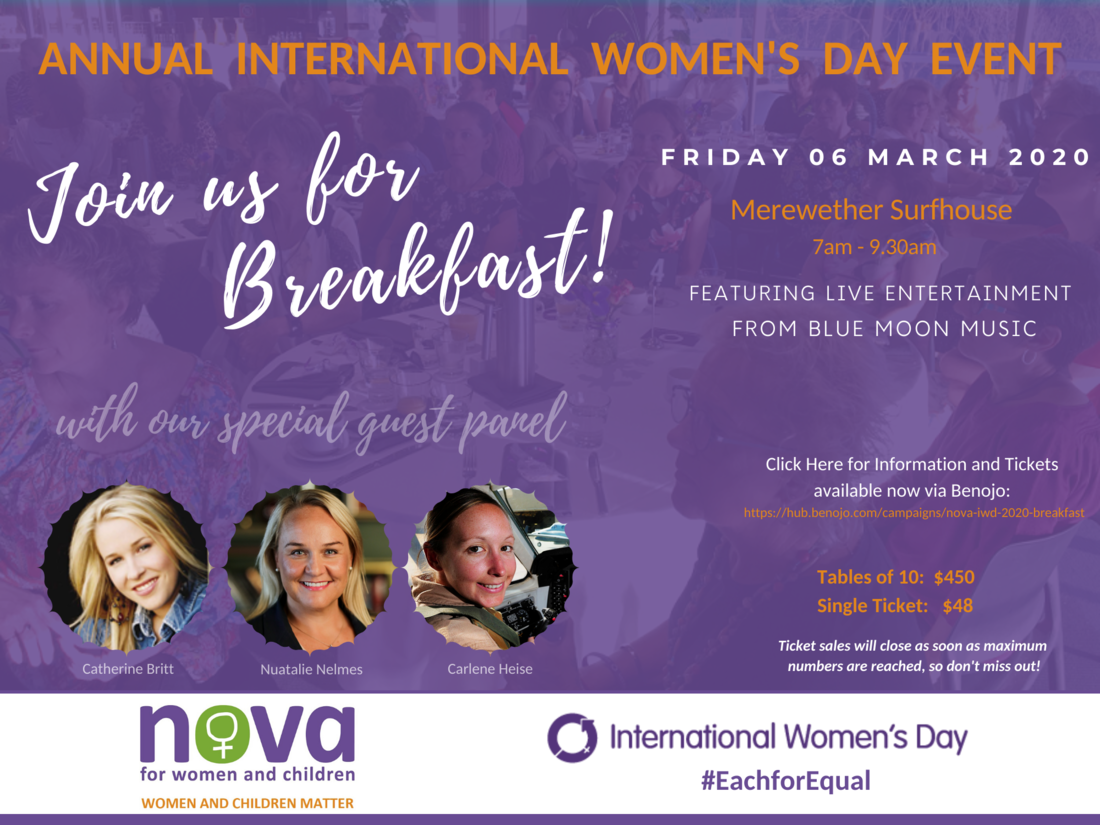 This was our second International Women's Day Breakfast.
230 people joined us this year, once again at Merewether Surfhouse, with a panel of inspiring women as our guest speakers. With a delicious breakfast overlooking the stunning Merewether beach, it was once again a great way to start the day and celebrate International Women's Day.
Thank you to all those that attended, your ongoing support is very much appreciated.
Tickets sold out very fast, so if you're looking to join us next year, your eye's peeled on our Facebook page around end Jan/early Feb 2021 for details so you don't miss out!
We look forward to seeing you next time!
#WomenAndChildrenMatter #EachForEqual #IWD2020
---
2nd Annual Women and Children Matter Rally - Lake Macquarie
Monday 9 December, 10am - 12noon
The Rotunda - Warner's Bay Foreshore
Nova for Women and Children held our 2nd Annual Public Rally - this time on the foreshore of Lake Macquarie.
The rally is to protest against gender based violence as part of the global campaign 16 days of Activism Against Gender Based Violence. We thank you for helping us make our voices heard.


Nova CEO Kelly Hansen, hosted the event, with special guest speakers including:
Renata Fields, Project Coordinator, Survivor Advocacy Service, DVNSW

Superintendent Daniel Sullivan, the Commander of the Lake Macquarie Police District

Jodie Harrison MP – local member for Charlestown

Yasmin Catley MP – local member for Swansea
Music on the Day was by Blue Moon Music as well as the beautiful voices of the Hunter Women of Note.
There was a time for reflection of the women and children murdered this year.

We had recently seen another horrific period in this country with women being violently murdered, largely by men known to them. This is unacceptable.

We are dismayed at the lack of action taken by decision makers and want the government to know we won't be silent.

As orange is the official colour of the global campaign for 16 Days of Activism against Gender-Based Violence, many wore orange to recognise this event.

For more pictures, please see our Facebook Gallery.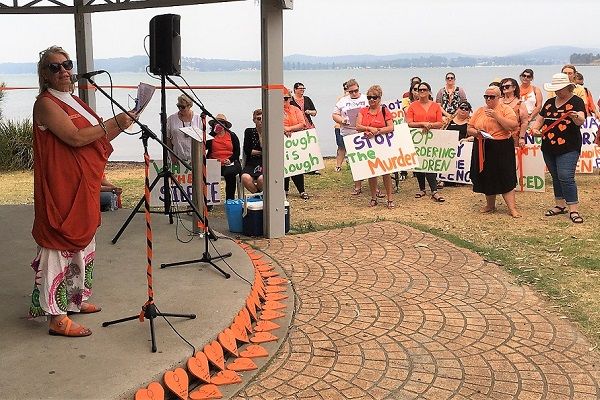 ---
Town Hall Meeting - HOMELESSNESS
In collaboration with the Newcastle Poverty Action Alliance, The Lock-Up hosted a Town Hall style community meeting focussed on Homelessness for the final weekend of OPEN HOUSE.

For more information visit http://www.thelockup.org.au/whats-on or check it out on Facebook https://www.facebook.com/events/2453742758286581/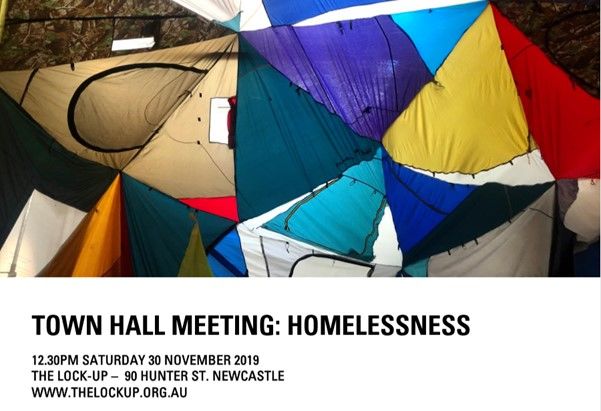 ---
Reclaim the Night - Newcastle and Lake Macquarie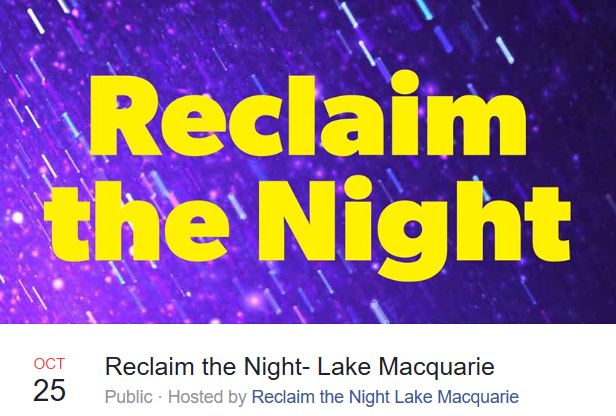 Reclaim the Night is part of a global protest for women's right to be free from sexual violence and abuse, occurring on the last Friday in October every year. The first Reclaim the Night march was held in Belgium in March 1976 by the women attending the International Tribunal on Crimes against Women. They marched together holding candles to protest the ways in which violence permeates the lives of women worldwide and the movement quickly spread throughout every continent in the world.

Nova for Women and Children proudly support this international movement to spread the message that women have a right to a safe and violent free life.

There were Reclaim the Night marches in both Newcastle and Lake Macquarie this year and Nova staff proudly attended both.
Newcastle started from Gregson Park at 6.30pm & Lake Macquarie from the Warners Bay foreshore.
Please feel free to join us next time, - bring your banners, candles, & your best chanting voices, in readiness to make lots of noise!!


#WomenAndChildrenMatter
---
Anti-Poverty Week Sit In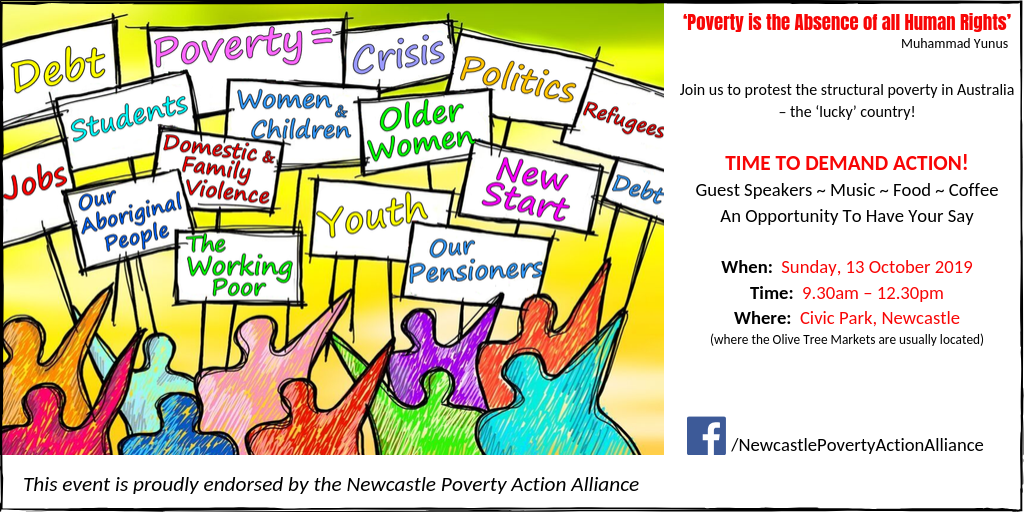 NATIONAL ANTI-POVERTY WEEK is 13 - 19 October 2019

over 50 people joined us t Civic Park on Sunday the 13th Oct to Protest the structural poverty in Australia - the 'lucky' country!

IT'S TIME TO DEMAND SOME ACTION!

THERE WERE:
* Guest Speakers (including Sharon Claydon, our CEO Kelly Hansen & more)
* Music, Coffee & Food Vans to enjoy
* Plenty of opportunity to have your say!

'POVERTY IS THE ABSENCE OF ALL HUMAN RIGHTS'
[Muhammad Yunus]

#APW2019
---
Action Boxing Fight Camp 7.0 - Fight Night
in aid of Nova for Women and Children
Date: Saturday, 30 March 2019
Start Time: 6pm
Venue: Souths Leagues Club, 46 Llewellyn St, Merewether
Event Information: The brave boxers that signed up to the Action Boxing and Fitness 10 week Fight Camp jumped into the ring to raise money for Nova for Women and Children.
An intensive 10 week program taught people with little or no boxing experience the skills needed to jump into the boxing ring and accomplish something they never thought possible. On top of this, they once again generously raised money for charity in the process. Action Boxing has previously raised over $20,000 for local charities and Nova for Women and Children are lucky enough to be second time recipients from this event on 30th March 2019!
Thank you to all that attended, Action Boxing and Fitness, as well as the boxers for proudly supporting us!

Major Sponsor on the night was Automation Industries, and their Director Matt Clerke pulled on the boxing gloves too!
Matt has been a long term supporter of the gym & with helping to raise money for local charities.

How money was raised for Nova:
$5.00 from each ticket will be donated.

$50.00 from each General table will be donated.

$200.00 from each Sponsors table will be donated.

$500.00 from our Major Sponsors table will be donated.

100% of money raised from charity raffles & auctions will be, donated.

Additional Donations were made via the Crowdfunding page for the event, here.

For details of this program, please contact Brad or Jackie at Action Boxing via
Mobile: M: 0402 335 850 or Email: actionbbrad@gmail.com
---

Women's Safety Rally - Enough is Enough!
Nova for Women and Children held a public rally in the heart of Newcastle as we are outraged over the number of women and children that had been violently murdered during this year.
Nova wanted our voices heard and we'd loved that you stood with us on the day as we ask the question why?
We also asked; When will something be done? When will it stop? and When will Women and Children Matter?
The rally was held:
On: Tuesday 27 November 2018
From: 10.00am - 12 noon
At: Wheeler Place (next to Civic Theatre) 375 Hunter St, Newcastle NSW 2300
For more information, please click here to see our Facebook Events Page or Phone: 02 4023 5620
Thank you to all that joined us on the day!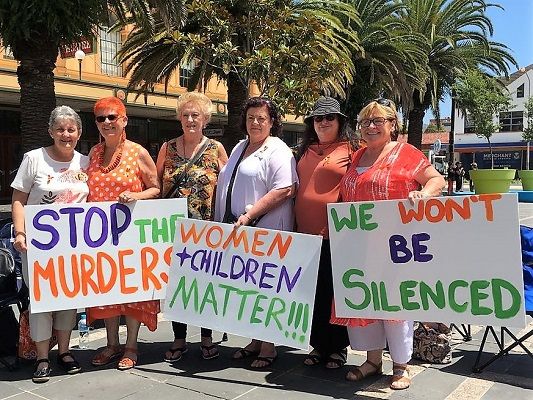 View part of the rally action on You Tube: Nova Rally 2018
---
Cultural Competency Training
As part of our commitment to our First Nations people and our acknowledgement of the impact of colonisation, Elsie Randall, Cultural Director from Justiz Community will be providing Cultural Competency Training for Nova staff during this National Reconciliation Week, 27th May - 3rd June.
---
2018 Newcastle Community Group of the Year
Nova for Women and Children were honoured and excited to receive the Community Group of the Year Award at the 2018 Newcastle Australia Day Awards. We appreciate having our work acknowledged and validated.
Our commitment to our vision, which is - A world where women and children live a life free from violence; a life that is safe, independent, valued and respected, will ensure we continue to provide the best possible support to women and children experiencing or at risk of homelessness and/or escaping domestic and family violence.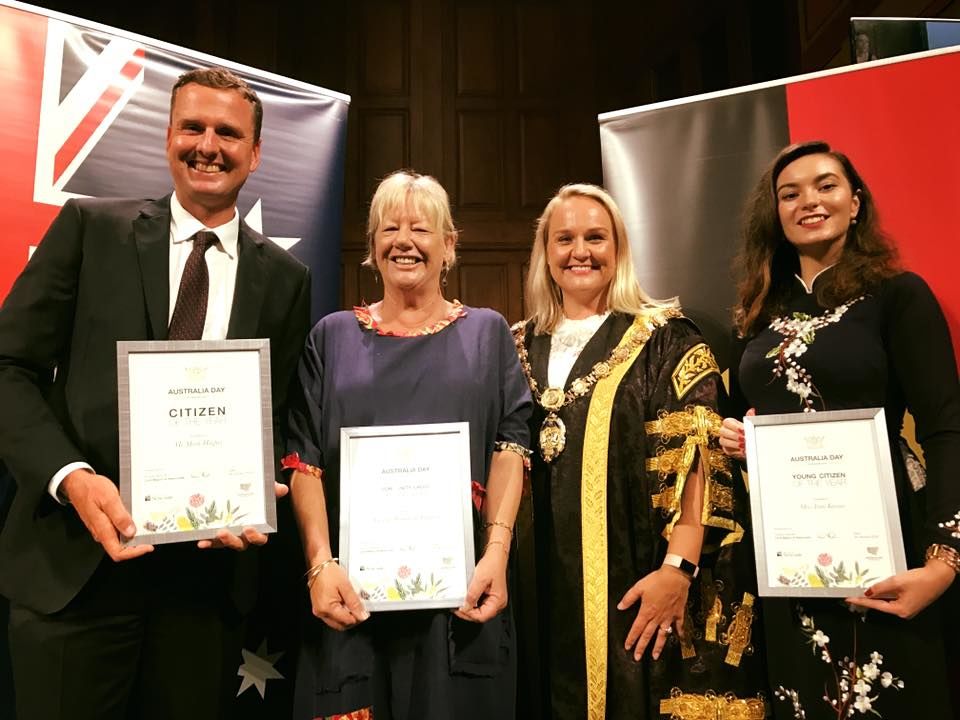 ---
Everybody's Home Campaign
There's no doubt about it; Australia's housing system is broken.
That's why we've joined forces with organisations from across the housing sector, to put together a campaign that will work towards fixing it - Everybody's Home.
FInd out more, and join the campaign by visiting www.everybodyshome.com.au